Lunch Bucket
Lazy Bulldozer
0:00/3:45

0:00/2:32

0:00/4:30

0:00/2:31

0:00/3:35

0:00/3:08

0:00/4:01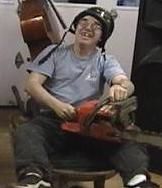 Galen Hanson - Vocals
Greg Hatchard - Guitar / Drums
Dave Lewis - Bass
Forrest "Bean" Delisle - Background Vocals on "On My Own" and "Good Times"


Lazy Bulldozer is the brain child of Mr . Galen Hanson of Perth-Andover, NB, Canada. Galen has been writing and recording songs for a number of years and has brought them together for his first CD "Lunch Bucket".  Galen's unique delivery and ad lib writing style make for a collection of mind bending tunes. We suggest you strap down  your brain before hitting the play button because there could be permanent damage.